FREQUENTLY ASKED QUESTIONS

How will taking the Ethical Paper Pledge benefit my business or organisation?
Demonstrate genuine corporate social responsibility
Sustainability matters. To your customers, investors, and employees. 
Taking the Ethical Paper Pledge is a way to demonstrate your commitment to socially and environmentally responsible business practices. 
As public demand increases for businesses and organisations to take responsibility for their social and environmental impact, many leading brands are already making the transition to sustainable and ethical procurement. 
By switching to 100% recycled, FSC® certified and native forest-free paper, you can show leadership in this area. It's an easy step that's good for the environment, and good for your brand. 
Mitigate risk associated with illegal native forest logging
Paper and packaging manufacturer Opal® (formerly Australian Paper®) continues to source wood fibre from the logging of Victoria's Critically Endangered native forests.
In May 2020, a judgement from the Federal Court found that the state-owned logging agency VicForests® (which supplies Opal® with wood), had broken the law in its logging operations and that future planned logging operations were also likely to be illegal. VicForests is also still without credentialled Forest Stewardship Council (FSC) full Forest Management certification.
Purchasing Opal® products that contain native forest fibre therefore exposes your organisation to an irresponsible and potentially illegal supply chain. Avoid this risk by signing the Ethical Paper Pledge and only using 100% post-consumer recycled products.
What are the legal risks associated with paper and packaging products produced by Opal®?
State-owned logging agency VicForests® supplies Opal® (formerly known as Australian Paper®) with native forest logs, which Opal® then processes to produce paper and packaging products.
In May 2020, a judgement from the Federal Court found that VicForests® had broken the law in its logging operations and that future planned logging operations were also likely to be illegal. You can find the court summary here: https://www.judgments.fedcourt.gov.au/judgments/Judgments/fca/single/2020/2020fca0704/summary/2020fca0704-summary
VicForests® had been brought before the courts on a number of occasions before this case, and concerns around legality have prevented it from gaining FSC® Forest Management certification.
Furthermore, analysis from the Wilderness Society has concluded that Opal® (formerly Australian Paper®) has repeatedly breached the Illegal Logging Prohibition Act (ILPA)(2012). By failing to employ adequate due diligence procedures (to ensure that the logs were not illegally harvested), at least half a million cubic metres of logs may have been illegally processed by Opal (Australian Paper®). You can learn more about the case here:
https://www.wilderness.org.au/news-events/are-you-printing-on-illegally-produced-paper
This would mean that consumers of the Reflex®, Victory®, Planet Ark®, Australian®, and Brilliant White® brands of office papers, or other paper and packaging products produced by Opal® that contain native forest fibre, may have unwittingly been supporting an illegally produced product. Purchasing or endorsing these products therefore exposes your organisation to an irresponsible supply chain, riddled with illegality, and compromising your ability to meet your commitments to ethical procurement.
Avoid this risk and demonstrate your commitment to socially and environmentally responsible business practice by signing the Ethical Paper Pledge. – https://ethicalpaper.com.au/pledge/
What is the relationship between Nippon Paper Industries®, Opal®, and Australian Paper®?
"Nippon Paper Industries®" is the name of the Japanese conglomerate which owns Opal®.
"Opal" is a manufacturer of paper and packaging products. These include the Reflex®, Victory®, Planet Ark®, Australian®, and Brilliant White® brands of office papers. These office papers are manufactured at Maryvale paper mill in the Latrobe Valley.
"Australian Paper" is the old name of part of the Opal business. It was rebranded to Opal in May 2020.
What is wrong with Planet Ark® paper?
Planet Ark® was originally founded by Pat Cash and Jon Dee in the 1990s but they abandoned the organisation because Planet Ark® began to support regressive logging practices and an unsustainable paper industry. 
Planet Ark® gives their endorsement to products manufactured and branded by Opal® (formerly Australian Paper®) which continues to source fibre for its paper and packaging products from Victoria's Critically Endangered Mountain Ash forests. Planet Ark® receives significant funding from the logging industry and partners with Opal® (Australian Paper®).
Will recycled paper jam my printer?
Nope! It used to be a common complaint, that recycled paper would jam the office printer. You won't notice the difference, and neither will your printer. 
In this day and age, it's simply not a problem. Thousands of businesses and organisations around the world, that rely on their ability to print in high volumes, have made the switch to a 100% recycled paper. The quality of recycled paper has come so far that nowadays 100% native forest-free paper is just as white, bright and dust free as virgin fibre papers.
Will it cost me more to buy Ethical Paper?
We have researched brands of paper which are competitively priced when compared to Reflex Ultra White®. Choosing an Ethical Paper from our guide can even save you money depending on which brand and retailer you chose. However, regardless of which native-forest free paper you choose, it reduces the demand for native fibres and sends a powerful message that you don't want your money to fund the destruction of Victoria's native forests.  After all, printing shouldn't cost the Earth.
About Forest Product Certification
Why is FSC® the better certification scheme?
Currently by broad consensus of environment groups and large private companies, Forest Stewardship Council® (FSC) is the best and most credible of forest certification schemes internationally and nationally in Australia.
The FSC® was set up voluntarily in the 1990s by key stakeholders from conservation, industry and social sectors to counteract the lack of government regulations and initiatives surrounding logging-driven deforestation on a global scale.  
The purpose of FSC® is to provide transparency and certainty to retailers and consumers as to which forest products are produced sustainably. Paper (and other products) that carry the FSC® logo are certified as having been derived from responsibly managed forests, plantations, or recycled fibre streams. When it comes to copy paper, the 100% Post-Consumer Recycled category is the highest standard.
What's the difference between the FSC® standards - Forest Management, Chain of Custody, and Controlled Wood?
FSC® provides two types of certification: the Forest Management certification for forest owners and managers, and the Chain of Custody certification for businesses manufacturing or trading forest products. In addition to these certifications, FSC® also provides the Controlled Wood standard – a lesser standard intended as a stepping stone to full Forest Management certification.
The differences between Forest Management and Chain of Custody are best explained by the diagram below: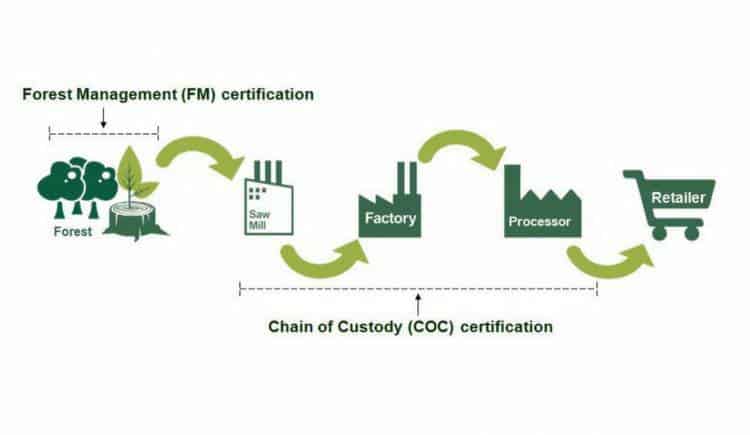 Image credit: Forest Stewardship Council®
The Controlled Wood Standard
Subordinate to full FSC® Forest Management Certification is the second-tier of forest management standard called Controlled Wood. 
The Controlled Wood was developed as an Interim Standard to achieving full Forest Management certification, as part of a stepping stone approach. It was also developed for nations with high levels of corruption and poor governance.
What's the difference between the FSC® 100%, FSC® MIX and FSC® Recycled labels?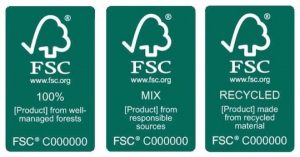 The FSC® 100% label means that the wood within the product comes completely from FSC®-certified well-managed forests.
The FSC® Mix label means the wood within the product is from FSC®-certified forests, recycled material, or controlled wood.
The FSC® Recycled label means all the wood or paper in the product comes from reclaimed (re-used) material.
Image credit: Forest Stewardship Council®
Does FSC® certification mean that all products by the company selling the product are FSC®-certified?
"Any company that wants to add the FSC® label to any of the products it makes must first receive chain of custody certification. This certification proves it is sourcing materials from FSC®-certified forests, recycling and/or controlled sources and is following FSC®-defined best practice throughout the production process and supply chain. But it does not mean that all products they produce are comprised of these materials.
Only products that use FSC®-certified materials can carry the FSC® on-product label. So, just because one product carries it, does not mean all products from the same company are made from responsibly sourced materials. You still need to look for the FSC® label on individual products to find out which are FSC®-certified and which are not."
Source: https://fsc.org/en/page/fsc-labels
What is wrong with PEFC® and Responsible Wood® certification?
Responsible Wood® (formerly the Australian Forestry Standard® AFS®) and the Programme for Endorsement of Forest Certification® (PEFC®) are both industry-led forest management certification schemes, meaning that their certification criteria are set by the very same industry that conducts and stands to gain from destructive logging.
The Victorian government's state-owned logging corporation, VicForests®, holds Responsible Wood® certification, which demonstrates how low the standard is, as VicForests® is still logging High Conservation-Value native forests.
PEFC® incorporates a mixture of unsustainable and irresponsible practices, and certifies logging in endangered species habitat, domestic water catchments and old forests. For this reason, some environmental organisations, including the Wilderness Society and Greenpeace®, do not support this standard.
"The PEFC … is dominated by governments and economic interests, and the governance structures of PEFC-endorsed schemes do not have full and balanced representation of economic, environmental, social and Indigenous interests. It is considered a weak and industry-dominated certification scheme, especially in comparison to the FSC…"
–Destruction: Certified Report, Greenpeace International. March 2021.
It should be noted that Responsible Wood® was formerly known as the Australian Forestry Standard® (AFS), but was renamed in November 2017. Responsible wood®  is the national governing body for PEFC® in Australia.
Questions About Forests & Logging
How does logging affect our water supply?
Eastern Victoria's forests contain the headwaters of rivers that supply Melbourne with world-renowned clean and safe drinking water, and also the rivers that flow north into the Murray River and support irrigated agriculture in the Riverina. Logging reduces water quality and quantity. Water that was once filtered by healthy forests, is now filthy with dirt, and less of it runs into streams, rivers and reservoirs as young saplings are far thirstier than older, intact forests.
This is because as young trees regrow, they regrow densely as they are all the same age and height, unlike established, older forests. These dense saplings are thirsty and soak up far more water than older forests, leaving less for  streams and rivers that flow into our water catchments, reservoirs, and dams. 
Clearing an area through logging can halve the amount of water available from that area. After clearing, water yield is reduced every year for roughly 27 years and takes up to 150 years to fully recover. Logging in Melbourne's water catchments could reduce the city's water supply by the equivalent of 600,000 people's annual water use every year by 2050, the same year our population is expected to reach 8.5 million. In a drought prone country like Australia and with Melbourne's population set to rise, we simply cannot afford to lose that much water in exchange for office paper. 
Shouldn't these forests be protected?
Absolutely. Most Australians are opposed to harvesting from native forests. Victoria's Critically Endangered Mountain Ash forests—targeted for paper pulp—should be protected.
The Great Forest National Park (GFNP) is a multi-tenure reserve proposal that will protect these threatened forests, provide a sanctuary for threatened wildlife and prevent extinction, safeguard Melbourne's water supplies, help abate the impacts of climate change, and provide an economic boon for towns still recovering from the impacts of the 2009 Black Saturday bushfires. Because it is multi-tenure, it will support and encourage a range of recreational activities including 4WDing, camping, hiking, horse-riding, mountain bike riding and responsible hunting.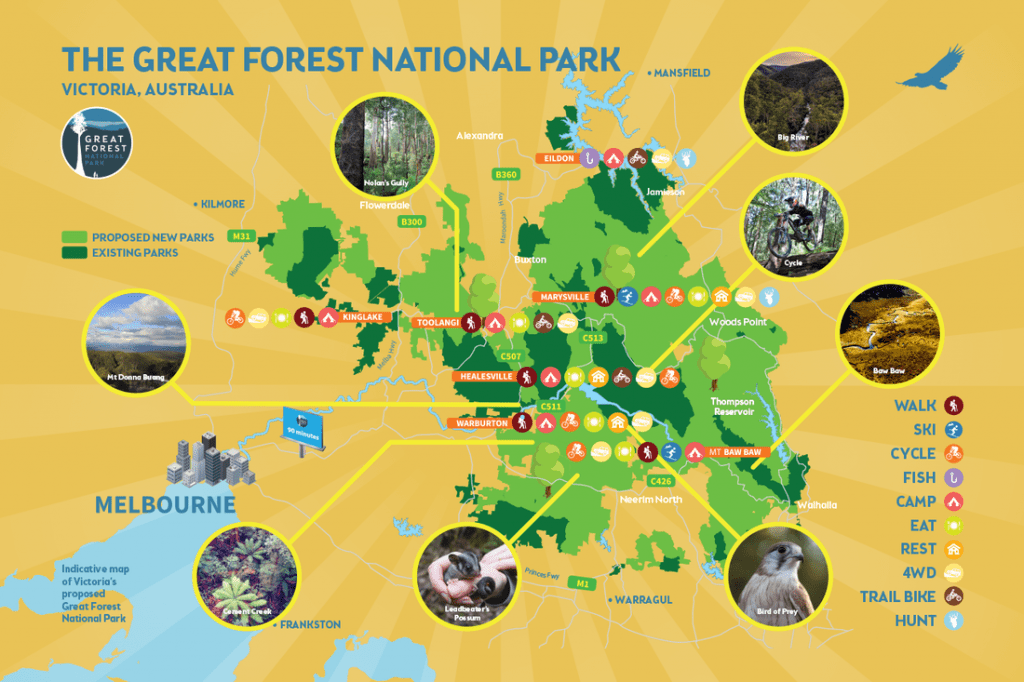 Image credit: Great Forest National Park
Community and business support for this recreation and conservation proposal remains strong and is growing. For example, 2014 polling shows that 9 out of 10 Victorians support the creation of the Great Forest National Park, and more and more businesses endorse the proposal every month.
What's special about Victoria's Mountain Ash ecosystem?
Close to Melbourne are the Critically Endangered Mountain Ash forests of the Central Highlands—the lands of the Bunurong/Boon Wurrung, Gunaikurnai, Taungurung, and Wurundjeri people. Today towering to 90 metres, but historically growing in excess of 130 metres, the Mountain Ash, Eucalyptus regnans, is the signature tree of the forests that cloak this part of The Great Dividing Range.
The iconic Mountain Ash trees (Eucalyptus regnans) are the tallest flowering plant, the tallest hardwood and the second tallest tree in the world (after the Californian Redwoods)! 
Mountain Ash trees are crucial components of an ecosystem that supports Melbourne's water supply and many Threatened and Endangered Species which depend on the old giant trees in these forests. The Critically Endangered Wollert (Leadbeater's Possum, or Fairy Possum)—so small it can fit in the palm of your hand—sleeps by day in tree hollows of the Mountain Ash forest. Come nightfall, this tiny, dainty possum moves through the tree canopy, foraging for nectar and insects. Rare large forest owls coast through the tree canopy, while the Critically Endangered elusive Spot-tail Quoll hunts over large areas, with expansive territories of 500 hectares per family. Vulnerable Greater Gliders, once abundant in forests up and down Australia's east coast, glide distances of 100m between trees on winged membranes stretched from fore- to hind-legs. Logging to make Reflex® papers occurs in known habitat of these and dozens of other forest-dependent native animals.
This important ecosystem needs to remain intact and connected in order for Victoria's Faunal emblem (Wollert) and other wildlife to survive. 
Sadly, these unique and important forests have been listed as a Critically Endangered ecosystem by the International Union for Conservation of Nature (IUCN). Research by the Australian National University has found that without intervention, there is a high likelihood that continued logging will trigger ecosystem collapse within the next 50 years. 
Taking the Ethical Paper Pledge is a simple and practical way that you can help take to ensure the survival of the Mountain Ash ecosystem.
How do forests protect us from climate change?
Mountain Ash forests are the most carbon-dense in the world. Victoria's forests carbon stocks and flows are a powerful and significant part of the carbon cycle, and present an enormous climate crisis mitigation opportunity. Through photosynthesis, trees absorb carbon dioxide from the atmosphere. Over time, as they grow, they store carbon in their wood, whilst continuing to absorb carbon dioxide. Because forests both store and absorb carbon, they have a crucial role to play in mitigating climate change. This means protecting our forests and planting new trees is an essential and important part of the way for Australia to meets our carbon emissions targets.
Is it true that logging is exempt from national environment laws?
Yes—unlike every other extractive industry, native forest logging has a rolling exemption from national environment law. This means that when the industry wants to destroy Matters of National Environmental Significance (MNES) like endangered species habitat, it doesn't have to apply to the Federal Government for approval to do so, a process that mining companies and developers have to go through.
For more than 20 years, dodgy logging deals called Regional Forest Agreements (RFAs) have provided the native forestry industry with this free pass from national law. The exemption has been a disaster for native wildlife, with record numbers facing extinction in areas where RFAs are in operation. RFAs haven't delivered certainty for industry, either, with job losses, mill closures, a lack of investment, and ongoing uncertainty being consistent features of the native forest logging sector.
The RFAs are long-term agreements between state and Federal governments, and have been in place since the late 1990s / early 2000s. There are RFAs in Tasmania, Western Australia, New South Wales and Victoria. In every state except Victoria the RFAs have been rolled over for another 20 years. Right now in Victoria, the RFAs are being reviewed through a process run by the Victorian government's environment department, DELWP.
Every ream of Reflex Ultra White® is made from forests logged outside of national environment laws. It's time to end the special treatment.
Questions About The Paper Industry
What about jobs in the Latrobe Valley / forestry industry?
Currently, native forest logging in eastern Victoria employs fewer than 485 people – with 115 of those being employed in forest management by VicForests®. Fewer than 2.2% of households in the Central Highlands and Gippsland are dependent on native forest logging. These jobs are coming at a huge cost to the taxpayer  and are not sustainable in the long term. Native forestry jobs are already under threat due to over-logging, poor-management, and bushfires. 
Paper manufacturing in Australia can become a sustainable industry and secure long-term jobs in the Latrobe Valley by completing the transition to plantation and recycled fibre. By choosing an Ethical Paper you are promoting that transition and supporting secure, sustainable jobs in the Latrobe Valley.
Why doesn't Opal® just use plantation wood and recycled fibre to make its papers and packaging products?
Opal®, formerly Australian Paper, already uses vast quantities of plantation wood and recycled fibre. There are five paper making machines at Opal® 's Maryvale mill; only two utilise wood sourced from the Critically Endangered Mountain Ash forests of the Central Highlands (the machines that make office paper, and uncoated papers).
Already, 68% of the wood sourced by by Opal®/Australian Paper® is from plantations, and the de-ink pulp facility has the capacity to process 80,000 tonnes of waste paper.
Victoria already has vast plantations growing in the west of the state, where in excess of 3 million tonnes of plantation woodchips are exported every year. Opal® (Australian Paper®) should be using this resource, instead of destroying native forests. But the company insists the wood is too expensive, as it would have to pay competitive prices per tonne (given these plantations are privately owned and operated), and cover the costs of transport (which the state government covers for wood it delivers to Opal/Australian Paper® from state forests).
Completing Opal® 's transition out of native forests and into plantations is less attractive to the company because it enjoys a wood supply from publicly-owned native forests that is enshrined in legislation. A special act of parliament, the Forests (Wood Pulp) Agreement Act 1996 guarantees Opal® /Australian Paper® supply of hundreds of thousands of cubic metres of wood annually. The company has stated on numerous occasions that it is unwilling to compromise on, change, or exit from this agreement.